Staying compliant with industry standards and compliance requirements can be a real headache. To make matters worse, many assessment providers rely on check-box processes and provide inexperienced QSAs with no resource consistency from year-to-year. At MegaplanIT, our expert QSAs are fully certified and have decades of experience helping businesses like yours maintain and effective compliance program all year round. We build long-term relationships with our customers and provide holistic services to meet all your security and compliance needs.
Our Services Help You Stay
While Reducing Your Costs AND Level of Effort
Get In-Touch With Us Today!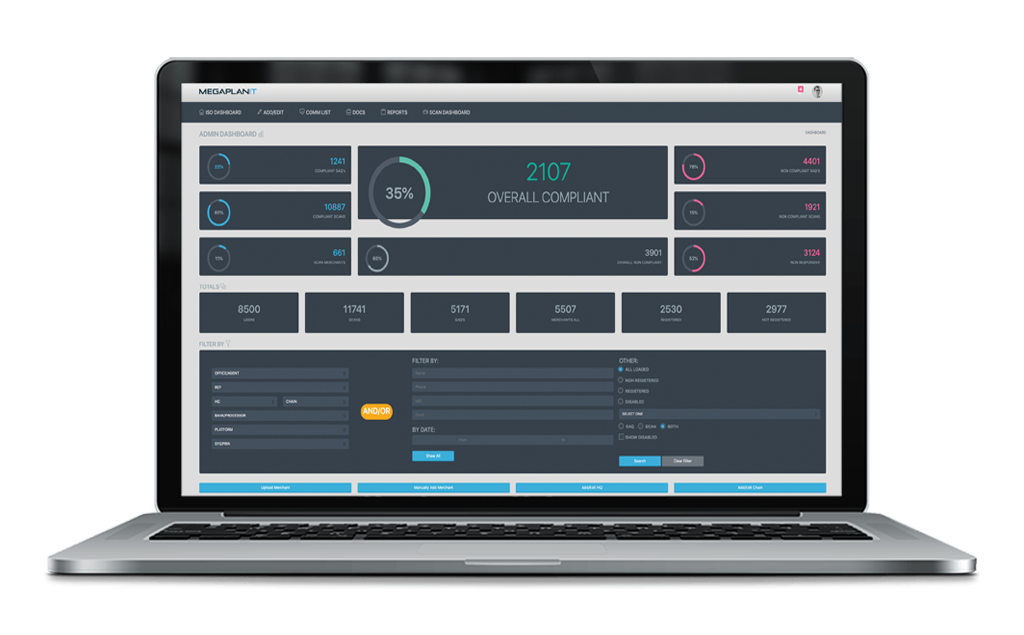 secure your network / Comply with Regulations
Our PCI compliance services are designed to help your organization become—and stay—compliant with PCI frameworks while reducing your costs and level of effort over time. Our assessments are tailored to the needs of your business and go far beyond check-box processes to identify and resolve any potential weaknesses in your security program.
Industry-leading assessment services that ensure your organization's security program is fit for purpose.
Improve the security of your organization's information systems by complying with official NIST guidelines.
• Build federal information systems
• Take control of cyber risk
• A component of FISMA compliance
Safeguard and securely distribute assets categorized as Controlled Unclassified Information (CUI)
• Information (CUI)
• Compliance of information systems
• Minimize cyber risk
Our expert assessors use NIST CSF to help you identify and resolve security weaknesses.
• Compliance with industry frameworks
• Maximize utility of security resources
• Control cyber risk & prevent breaches
We continually expand our service offerings and acquire new certifications to help our customers achieve their business objectives, and ensure compliance with all relevant industry frameworks.
Ensure your sensitive information will remain secure, confidential, and available throughout the lifecycle of your relationships with third-party providers.
Make sure your healthcare organization's security program is in line with the industry's strict compliance requirements.
Comprehensive and cost-effective ISO risk assessments, tailored to the specific needs of your organization.
Standardized Control Assessment (SCA)
The Shared Assessments group has changed the name of this tool to from the Agreed Upon Procedures (AUP), to the Standardized Control Assessment, or SCA.
Ensure your organization is taking the necessary steps to safeguard sensitive data and comply with the Gramm Leach Bliley Act.
Our experienced QSAs walk you through the compliance process and ensure your organization is securely processing and storing credit history data shared by Experian.
Our experience with these assessments allows us to guide you through the MA 201 CMR 17 regulation compliance process quickly and efficiently.
Ensure your critical infrastructure is protected in line with the North American Electric Reliability Corporation's (NERC) mandatory Reliability Standards.
End-to-end encryption is an excellent way to secure important communications. We provide a fully certified, in-depth assessment of your E2EE solution.
Our experts provide comprehensive assessment and advisory services to ensure your organization is fully compliant and in control of cyber risk.
MegaplanIT has handpicked the best security and compliance professionals in the industry, who have exceptional qualifications and experience. Our team of experts is actively committed to excellence, so they continually advance their skills by seeking out the most current training and certification in best practices across all industries.
At MegaplanIT, we understand the demands of your business. You need your data to be accessible to your organization, yet impenetrable from the outside. You also have to comply with increasingly stringent information security regulations, which are vital not only to your security but to your success. On top of that, you're still, well—running a business.
Our innovative IT security and compliance solutions are designed to deliver customized, cost-effective service on time. With a highly qualified team of PCI-DSS QSAs, Penetration Testers, and Information Security Consultants here at MegaplanIT, we will assess your unique company and business environment and design a path to security that will fit all of your needs.